Cheese and wine nights are common, but what about cheese and whiskey? Cheese and whiskey go together like chalk and cheese, and it's a flavor combination you have to try to believe. There is a wide range of cheeses available, from hard and aged cheddar and parmesan to soft and mild camembert and brie. And we have a wide enough selection of whiskies that we can experiment with matching different cheeses with them.
When it comes to eating and drinking, there are no hard and fast rules. Whiskey and cheese may be a winning combo for you, but it's possible that your pals won't share your enthusiasm for the pairing. But if you and your friends are interested in trying out new flavor combinations, a whiskey and cheese-tasting night is the perfect way to do it.
Why Dairy Products Pair Well with Liquor
Whenever it comes to drinking, cheese has consistently been the perfect companion. Cheese is commonly served with wines and beers, but a stronger alcoholic drink is also a perfect complement. Cheese is one of those foods that can be eaten with just about every beverage. No matter what you add to it—salt, smoke, or fat—the combination is wonderful. In addition, cheese complements many different drinks wonderfully.
Cheese and red wine are a traditional pairing for tastings, but have you ever tried it with cognac instead? And Brandy? Do you ever pair cheese and Gin? Cheese and vodka, too! Cheese and whiskey go along like, well, cheese and whiskey. Because of how well they go together, cheesemaking is often where they first meet. Some cheeses and other dairy products are given an extra boost in flavor from the addition of alcohol during processing.
Why, exactly, does cheese pair well with spirits? The cheese's fat content is of primary importance. When it comes to drinks with a high alcohol content, it has the potential to coat the palate and amplify the sensation of flavor without the harshness of the alcohol. It also works in reverse. The alcohol thins out the cheese, revealing its purest flavor. There are two possible outcomes when combining alcoholic beverages and cheese:
(1) the flavors cancel each other out
(2) the primary attribute of each is accentuated. And no matter what happens, it'll be a fantastic adventure.
Cheese isn't just the ideal option for a hangover cure, but it's also the best pairing option anytime you're having a tasting or just snacking while drinking. You read that correctly; it is true. A full stomach will have a harder time absorbing the alcohol because the food is coated with carbohydrates, protein, and fat. This method also helps you prevent the dreaded hangover. Thanks a bunch!
Whiskey and Cheese: Do They Mix?
Yes! is the short response to this inquiry. They complement each other perfectly. Cheese is the most tried-and-true meal to pair with whiskey if you're having trouble finding other options. The Scotch Whiskey powerhouse Macallan has already partnered with Murray's Cheese because whiskey and cheese work so well together. The result was four harmonious pairings of outstanding whiskey expressions from Macallan with smooth and rich cheeses from Murray's.
The combination of whiskey and cheese is one of nature's most harmonious creations, and it's not the only one. Certain cheeses have a whole different flavor profile, yet they end up bringing out the whiskey's complexities; other combinations are simply complementary.
How to Pair Whiskey with Cheese
Whiskey and cheese go along wonderfully, but they may be enjoyed much more so if you do this one thing. The act of tasting the cheese or whiskey itself can lead you to discover many other flavors you never knew existed. The most expensive cheese should be saved for last. To illustrate, if your cheese board includes goat cheese, brie, and blue cheese, you should serve the brie first, followed by the goats, and finally the blue. Whence comes to this hierarchy? Since the flavor of the whiskey and the cheese will be overwhelmed by the richer and smokier cheese. Much as with whiskey, you'll need to bring the cheese to room temperature. Last but not least, here's how we recommend pairing whiskey with cheese:
Explore the whiskey's aromas by giving it a whiff.
Examine the whiskey's relationship to the cheese's aroma.
Whiskey is best enjoyed by sipping and swirling in the mouth before swallowing. Take note of the subtle nuances in flavor and tone.
Have another taste of the whiskey now that you know what to expect from its flavors.
Try biting into some cheese while your whiskey is still on your tongue and observing the resulting flavor combination. Check to see if the flavors go well together.
Or perhaps they introduce a new flavor right away?
Did the cheese alter the whiskey's flavor in any way?
Is there a difference in how the whiskey ends?
Changes in flavor and body between whiskey and cheese make for an intriguing match in the world of whiskey tasting. The proper cheese may bring out the best in the whiskey's flavor, but the appropriate spirit can do the same for the cheese.
Five Different Kinds of Whiskey and the Cheeses That Go Best With Them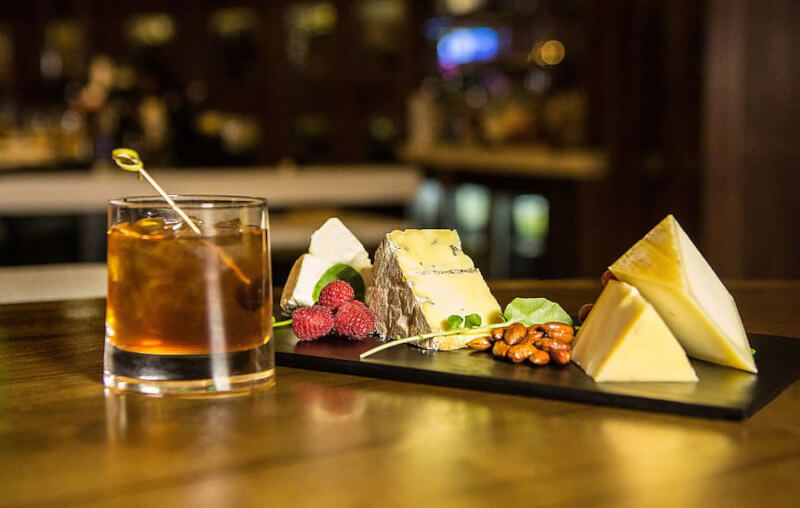 Complementing Cheese with Scotch Whiskey
Scotch Whiskey, as the name implies, is produced exclusively in Scotland, making it one of the world's leading whiskey manufacturers.
Scotch whiskey, the finished product, is highly sought after and popular around the globe. There are countless varieties of this liquor, from Single Malt Scotch Whiskey to Blended Scotch, making a definitive tasting profile impossible. There are, however, a few distinguishing features of scotch. Peaty and smoky flavors, malted barley bases, and even subtle hints of sea salt can be found in certain varieties of scotch whiskey.
The key to a successful scotch whiskey and cheese match is familiarity with the whiskey's flavor profile. Pair a smokey or peaty dram with blue cheese for a nice contrast in flavors. Harder and nuttier cheeses, such as alpine-style cheeses, are your best bet if you want to achieve a similar flavor profile. We recommend the following combinations:
Young Pecorino Romano Cheese & The Macallan 12 Year Double Cask
To improve the whiskey and cheese pairings, The Macallan, one of the finest Single Malt Scotch Whiskey brands in the world, partnered with Murray's Cheese. They recommend drinking Macallan 12-Year Double Cask with a fresh Pecorino Romano. The combination of scotch whiskey and cheese is perfect.
A young Pecorino Romano is salty, fragrant, and strong sheep's cheese, much like this Macallan expression, which is full of sweet and citrus notes like honey, caramel, orange, and spices.
Similar to how sheep's cheese brings out the best in the spices in The Macallan 12-Years Old Double Cask, a pinch of salt brings out the citrus notes in this whiskey. The honey and vanilla flavors lurking in the background of the whiskey are brought forward by a lively interplay between salty and sweeter overtones. Since it's a young cheese, it won't be too dense or salty, and it should complement the finish of the whiskey quite well.
Parmigiano-Reggiano and Glen Garioch, Both Aged 12 Years
The Glen Garioch distillery in Aberdeenshire, United Kingdom, is the most eastern in the entire globe. The scotch whiskey made there is as distinctive as its geographical origin.
This dram, the Glen Garioch 12-Years Old, is oaky, sweet, and silky. Banana and pear fruit flavors are also present. Cheese prepared from cow's milk and aged for at least a year is called Parmigiano-Reggiano. Its nutty undertones make it a versatile taste enhancer that works well with a wide variety of foods.
The pairing of Parmigiano-Reggiano cheese and Glen Garioch's 12-Years Old whiskey is a marvel of opposites. Whiskey has a smooth aftertaste, but the cheese is dense and firm. And the cheese will provide a backdrop against which the whiskey can shine. The malted barley characteristics of this single malt scotch whiskey will shine through when paired with the nutty and sweet Parmigiano.
Briquette De Brebis Cheese With Balvenie Caribbean Cask 14-year-old Single Malt
For good reason, The Balvenie is the most popular brand of scotch whiskey in Speyside; its drams, such as The Balvenie Caribbean Cask 14-Years Old, are sophisticated and forward-thinking.
The Balvenie's expertise in making whiskey is showcased to its fullest in this expression, which is finished in rum casks. This method gives the whiskey a soft sweetness and vanilla flavor up front, followed by molasses and fresh fruit characteristics in the finish.
Briquette de Brebis, a French cheese known for its creamy texture and nutty flavor, is a great choice since it provides a smooth foundation upon which to enjoy the crisp hints of the whiskey. The nutty aromas of the Briquette de Brebis cheese complement the fruity notes in the Balvenie Caribbean Cask 14-Years Old scotch whiskey, making for a pleasant and mellow marriage.
Blue Stilton and Ardbeg Uigeadail
A cheese worthy of a great whiskey expression should be used for pairing. Ardbeg Uigeadail is consistently recognized as one of the most heavily peated drams on the market. This drama calls for a characterful cheese, and Blue Stilton fits the bill.
The peated, sweet, and spicy flavors of Ardbeg Uigeadail Single Malt Scotch Whiskey come from its aging in ex-sherry casks. In addition to the smoky and salty undertones, other flavors, such as nuts and fruit (like lemon and banana), are discernible.
Only a cheese as full-bodied as Blue Stilton can stand up to and complement this whiskey. It's a blue cheese, but it's not as strong as, say gorgonzola. It's a mild cheese, but it has a lot of personalities, and the salty and nutty flavors will set the stage for the smokiness of the Ardbeg Uigeadail. The Blue Stilton cheese also brings out the scotch's light fruitiness. And if you think whiskey and cheese would be an epic battle, you'd be completely incorrect. They complement each other well and play along pleasantly.
Let's Have Some Wine & Cheese
If you think whiskey and cheese go well together, you're underestimating their strength. The sooner one learns how to select the optimal whiskey and cheese match, the sooner one will master the art of whiskey tasting.
As we've seen in the preceding paragraphs, sharper cheeses, like blue cheeses, pair well with smokier, peatier whiskies. Whiskies that have spent time in sherry or bourbon barrels pair well with salty, firm cheeses. Pairing a dram with a nuttier and softer cheese brings out the dram's more unique flavor. It's possible that you wouldn't want an overpowering combination of a sweet dram like Bourbon and savory cheese. Therefore, you may want to select cheeses that are more supple, creamy, and nutty in flavor. When paired with cheese, whiskey's underlying tastes often emerge from hiding. And have faith; it does what it claims to do.