Whiskey, a distilled alcoholic beverage, begins as a fermented mash of grains. The procedure often employs cereal grains like barley, corn, rye, and wheat. It's fascinating to learn that whiskey was the preferred money of Pennsylvanians in the 18th century. Most expensive bottles of whiskey are not so much more expensive because of their age, quality, or flavor as they are because of the casks in which they were aged. Let's have a glimpse at the top 10 most expensive whiskey bottles ever sold.
The Macallan 1926 Valerio Adami – 60 Year Old Collection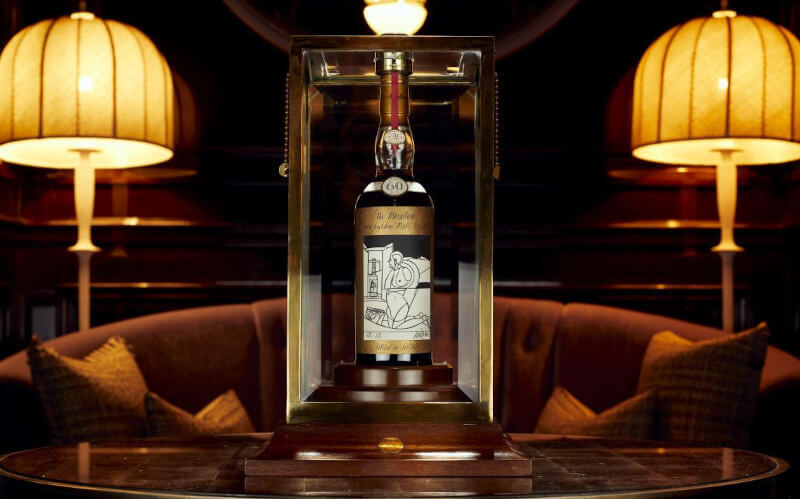 This was the fifth bottle of 12 from the Macallan distillery's 60-year-old collection. The Italian artist Valerio Adami and Allan Shiach, Chairman, are credited with its creation. In October 2018, the distillery auctioned off this bottle at Bonhams, and it has remained in the hands of the same collector ever since. An eye-popping £848,750 (about Rs 8.3 crores) is required.
A Bottle of Macallan "M"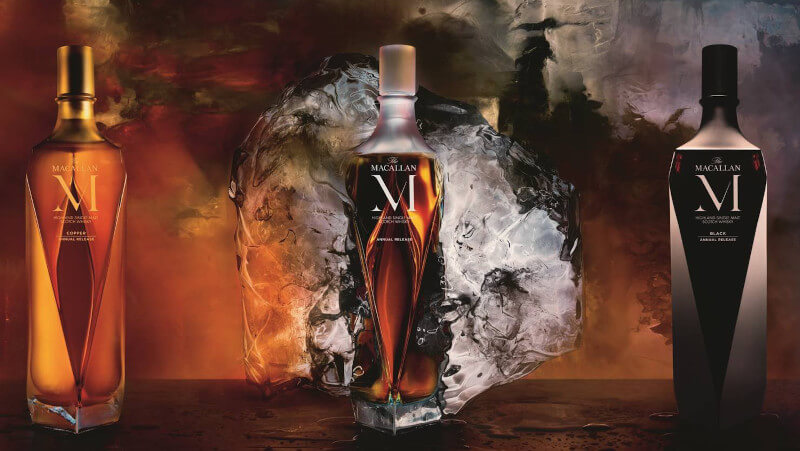 We weren't exaggerating when we called whiskey from the Macallan distillery the most costly in the world. At a Sotheby's auction in Hong Kong, this bottle fetched US $628,000 (Rs 5.1 crores approx), shattering yet another world record at the time.
The skill required to create the decanter is a major factor in its high cost. The decanter is towering 28 inches tall and can hold up to six liters of whiskey in its multifaceted Lalique crystal. How many of you knew that over forty different decanters were made, evaluated, and ultimately destroyed before only four were finally approved?
The Macallan Michael Dillon 60-Year-Old at $1.53 Million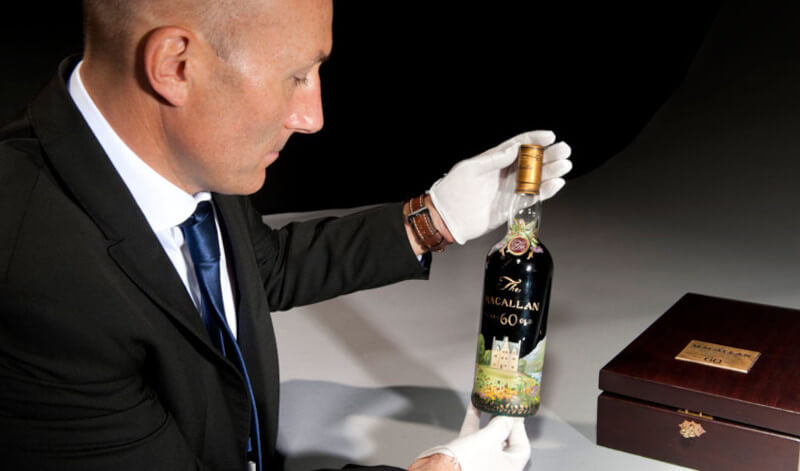 The Macallan distillery opted to have Irish artist Michael Dillon paint one of the last surviving bottles of their famous 60 Year Old from cask #263. Beautifully depicting the historic Easter Elchies House on the estate of The Macallan Speyside, this one-of-a-kind bottle first appeared in 1999.
Since its original purchase at the posh London department stores Fortnum & Mason 19 years ago, the bottle had been missing in action. Until its auction in November 2018 at Christie's in London, where it sold for £1.2m (approximately $1.53m), it had never fetched more than £1m. The previous record for the highest price paid for a single bottle of whiskey at auction has been broken.
The Emerald Isle Series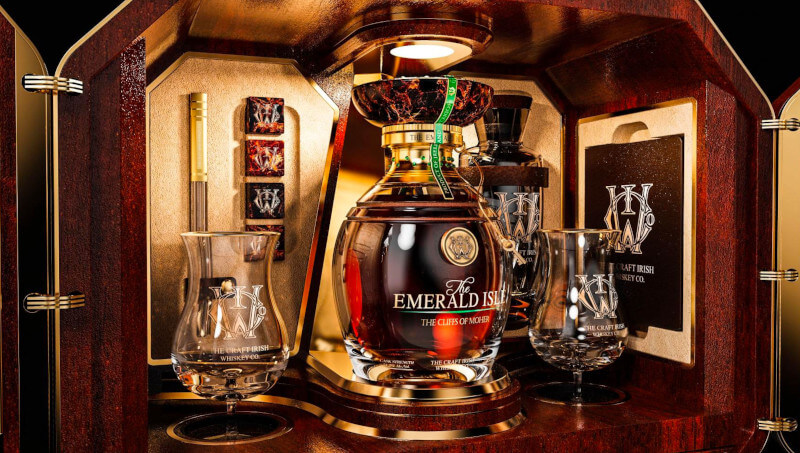 The Craft Irish Whiskey Co. and Fabergé have collaborated to produce a limited edition whiskey gift set that features two bottles of the oldest triple-distilled Irish whiskey from the world's oldest distillery, Bushmills, and sells for $2 million (Rs14,80,86,700). The Scotch is accompanied by a Cohiba Siglo VI Grand Reserva cigar and a gold-plated cutter, as well as a 22k gold clock and a 22k gold Fabergé Celtic Egg. The Emerald Isle Collection, released in 2021, was the most expensive first release by a whiskey firm, with all proceeds going to charity to fund research for a cure for childhood cancer.
50-Year-Old Single Malt Whiskey from Yamazaki
An extremely unusual example of Japanese whiskey is Yamazaki's Single Malt Whiskey Aged 50 Years NV. Recent auction results in Hong Kong for Sotheby's Finest and Rarest show that it sold for $465,000. In 1923, Shinjiro Torii established the Yamazaki Distillery. It was the first legal whiskey distillery in Japan. Mizunara (Japanese Oak) casks were used to age this whiskey. Yamazaki, now 50 years old, was published in only three editions. It is one of the rarest Japanese whiskies because just 50 bottles of the initial edition were ever made in 2005.
Glenfiddich's Janet Sheed Roberts Reserve From 1955 at $70 000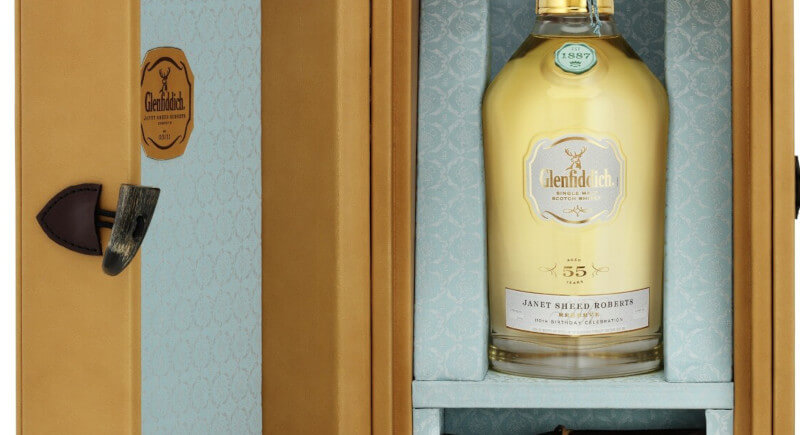 One barrel of Scotch whiskey at Glenfiddich had been raging since 1955's New Year's Eve. The business decided to make 15 bottles from the barrel in memory of Janet Sheed Roberts, the granddaughter of Glenfiddich's founder William Grant, who passed away at the age of 110. The family kept four of them and sold the rest at auction. An Atlanta whiskey enthusiast paid $94,000 for one. The whiskey's flavor profile of floral fruit sweetness has earned it high praise.
Springbank, 1919 at $78 000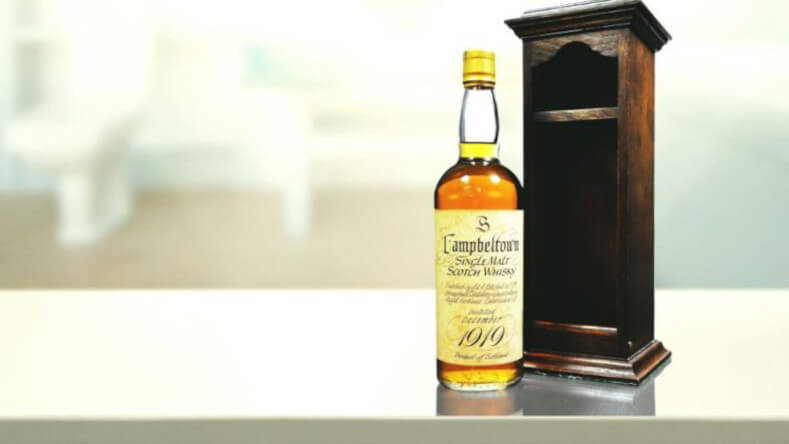 You could be lucky and locate some of these bottles still for sale on the internet. The age of this renowned Scotch is reflected in its price of $78,000. This vintage, made in Scotland's Campbeltown district, is extremely expensive because of its age. This batch was bottled in the winter of 1919. It's a single malt that was bottled in 1970 after being matured for 50 years.
Hanyu Ichiro's Card Series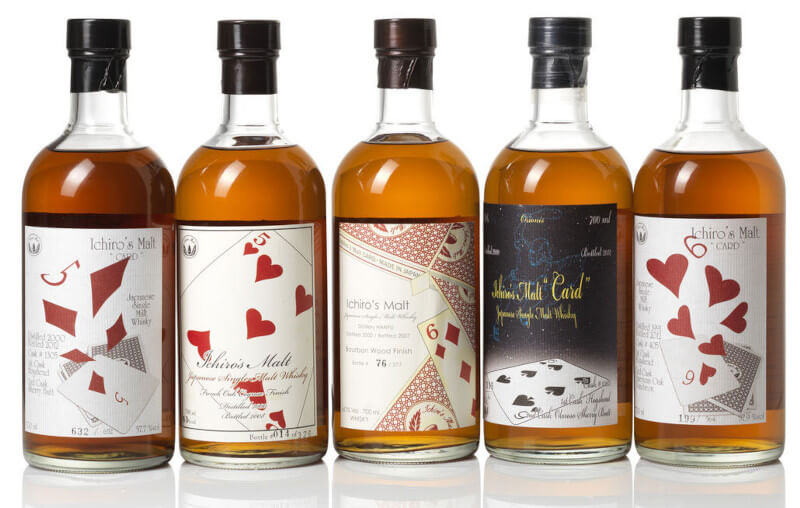 The fact that this is a set of 54 bottles rather than a single bottle nearly makes the asking price seem acceptable in comparison to the others on this list. Only four complete sets of Japanese whiskey, which was bottled from a single cask between 1985 and 2014, are thought to be in existence. In 2019, a complete set of Japanese whiskey sold for nearly twice as much as the previous record-holder, a set sold at Bonhams in Hong Kong in 2015. A whole deck might be a lucrative investment opportunity if you know how to play your cards well.
The Macallan Peter Blake 1926  at $1.04Million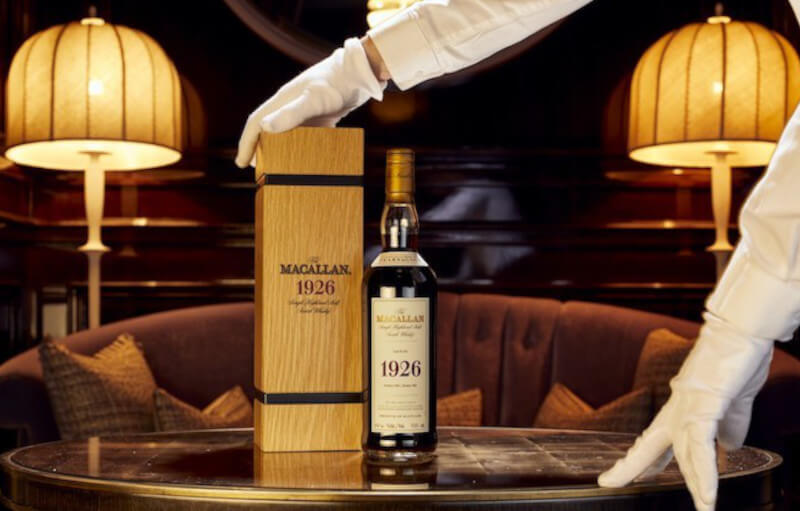 The sherry-seasoned cask was used for the Macallan Peter Blake 1926. It was distilled in the Speyside region in 1926 and matured for 60 years before being bottled in 1986. Twenty-four of the bottles were adorned with labels designed by renowned artists (among them Valentino Adami and Michael Dillon; two bottles with labels designed by these artists had sold for over $1 million in the past year), and one bottle was commissioned to be painted, and two bottles were auctioned off empty. Macallan planned to release the remaining 14 bottles as part of its vintage release series.
The Macallan collaborated with pop artist Sir Peter Blake (famous for designing the album cover of The Beatles' Sgt. Pepper's Lonely Hearts Club Band) to design the label for the first release of the 12 bottles in 1993, reflecting the exclusivity of the single malt and adding to its value. Bonhams in Hong Kong held an auction in May 2018 for one of 12 bottles of The Macallan Peter Blake 1926 60-Year-Old whiskey; the bottle sold for about US$1.04 million.
Dalmore 62 Single Highland Malt Scotch, Matheson 1942 at $58,000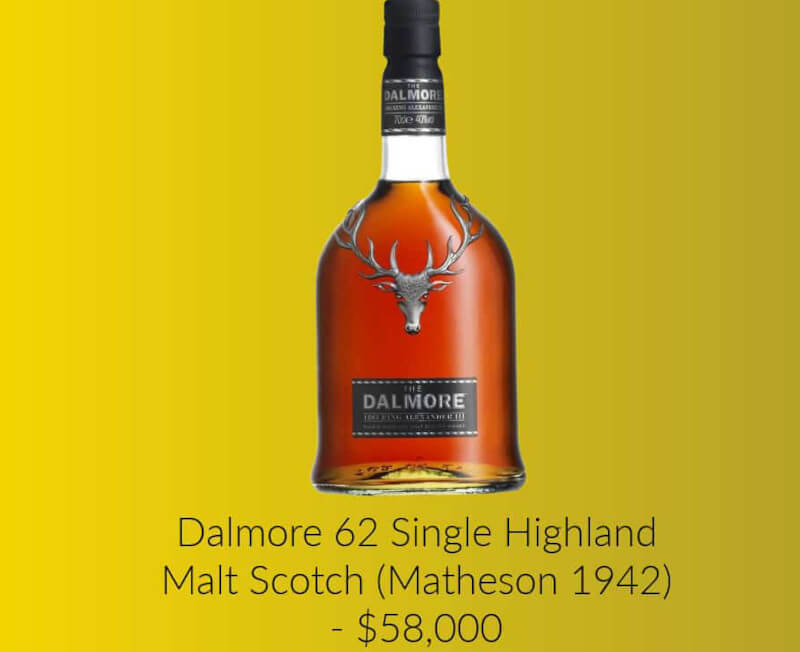 This bottle, from the Dalmore distillery, is the best value on our list at only $58,000. The distillery, started by Alexander Mathesoin in 1839, has been turning out high-quality single-malt Scotch ever since. They finally released their multi-cask aged 1942 in honor of the company's founder. The 62 bold Scotch is difficult to come by, which is why it is so expensive. Only 12 bottles of this rare liquor were produced by the distillery.
We think you'll agree that this is quite a list. How do you rate the world's 10 most expensive bottles of whiskey?