Just picture yourself entering a quaint pub 40 years ago, checking the shelves for some Macallan, and coming up empty. You probably can't even fathom it now that Macallan is the undisputed king of whisky. However, behind every smashing commercial success is a tale, and Macallan's is intricately woven.
Changes in Tactics and Timing
You may have scoffed at Macallan's latest "Make the Call" commercial, an expensive production that dared to dream without showing a single drop of the amber liquid. Such brazenness was unthinkable in 1978. When Willie Phillips took over as managing director of Macallan, the brand was well-known and adored in Speyside but not beyond. How did it go from complete obscurity to fame all around the world?
The Humble Beginnings in Elgin Bars
The charm of Macallan in the late 1970s lay in its limited visibility. In towns like Elgin, one could arguably find some of the best-kept secrets of the whisky world on optics, rather than grandly displayed. Willie Phillips' initial inability to spot a Macallan at a bar speaks to the diamond-in-the-rough status of the brand. While such obscurity might deter the less passionate, it was a hint for the connoisseurs, a nod to the authenticity of a whisky not yet commercialized. It's a paradox, isn't it? In our age of blatant advertising, the subtlety with which Macallan was introduced in bars back then would have been a tactic to make the drink even more desirable.
The Effectiveness of Marketing
Macallan's stockpiles were a marketer's dream. Good malts have been patiently aging for their chance. What's the catch? Getting a lot done on a shoestring budget. To what end do you work? In a way that is both clever and endearing. 
In 1973, a beautifully illustrated brochure titled "The Remarkable History of The Macallan-Glenlivet" attracted people's attention with its copperplate lettering and watercolors depicting the story of whisky. But in 1979, everything changed. Phillips and his team had a goal and a budget of £25,000, and they set out to create advertising that would appeal to intellectuals, humorists, and the marginally eccentric.
Making the Most of £25,000
Entrusting Holmes and Salaman with a mere £25,000 for an advertising campaign was both a challenge and an opportunity. Instead of going for the obvious, the duo opted for strategic placements, showcasing their creative prowess. Their decision to position ads next to The Times crossword is a stroke of genius, targeting a discerning audience in a subtle, yet impactful manner. By eschewing mainstream tactics, they gave Macallan exclusivity, a cachet that mainstream advertising would never have achieved.
Unusual Commercials, Long-Lasting Effect
You've probably seen them; they're the funny little advertising next to the crossword in The Times. The allure of these shows was in their understatement; they were hardly as flashy as those of today. The messages were clever, combining the cleverness of Nick Salaman with the visual prowess of David Holmes. 
There were backstories to everything from Macallan-named canines to lighthearted views on the onset of spring featured in these commercials. Both distillery workers and Macallan's devoted customer base contributed to these anecdotes. These narratives served as the backbone of the campaigns, lending an air of familiarity and warmth to the advertisements.
Legacy Beyond the Bottle
David Holmes' contribution to the Macallan brand wasn't just limited to creating compelling advertisements. From painting watercolors of Macallan's home, Easter Elchies House, to briefing Sir Peter Blake on label designs, his impact can be felt across the brand. It's a classic case of how creativity isn't bound by mediums. The Macallan bottle, with its tantalus cabinet, pays homage to the synergy between product design and advertisement, creating a holistic experience for the consumer.
The beauty of the Macallan ads lay in their simplicity. From the humorous tales of a dog named Macallan to the sneaky dram thief frustrated by a cork stopper, they humanized the brand. These anecdotes offered a relatable touch to the otherwise luxurious image of single-malt whisky. The stories drew from the everyday experiences of distillery workers, demonstrating that Macallan wasn't just a distant luxury brand; it was a part of life, with its own set of stories to tell
A Pinch of Insurrection
Do you recall the old advertisement, "The Macallan? The Malt?" It appears to be quite simple. However, the idea was brilliant. This wasn't some clever commercial slogan that attempted to capture the spirit of the brand in a few words. It caused some controversy because it was such a strong statement. Keep in mind that any alteration, no matter how insignificant, will be recorded with great emphasis on the brand's history. 
The World of Print and Beyond
Holmes's impact went beyond the realm of advertising. His designs were included on bottles, and boxes, and even influenced famous artists like Sir Peter Blake, whose work can be seen on the Macallan's 60-year-old, 1926 release label.
Macallan's advertisements didn't just stop at being quirky and relatable; they evolved into pieces of art. The decision to involve illustrators, especially renowned names like Axel Sheffler, elevated the brand's visibility and gave it a sophisticated charm. Take the "Colossus of Nose" poster, for instance. It's not just an ad; it's an artwork that would be just as at home in an art gallery as it was in a magazine spread. This approach subtly elevated Macallan's image, resonating with both the discerning whisky lover and the art enthusiast.
The Contemporary Macallan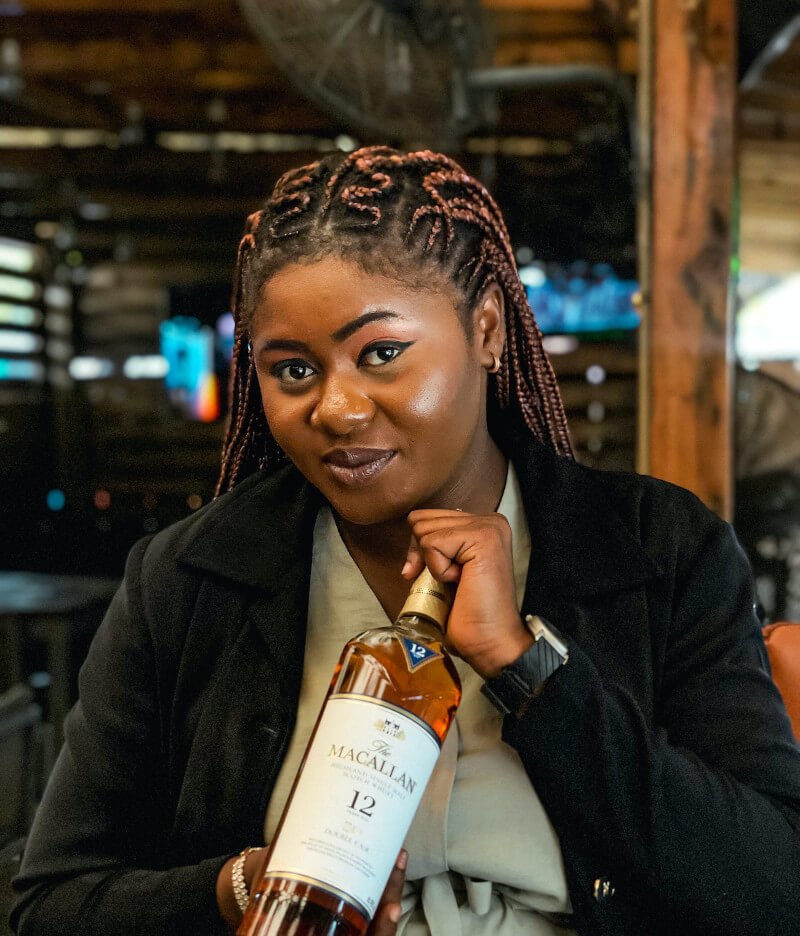 Macallan's advertisements changed as the years went on. In 1996, a new age of extravagance and leisure began. This change was crucial in creating the Macallan we know and love today. Even though Phillips and his team weren't present for the 2018 grand opening of Macallan's new distillery, the brand's history, those endearing commercials, and the memories they generated will live on forever. Because, as Salaman so aptly put it, they were, fundamentally, peddling joy and satisfaction.
The Silent Triumphs of Marketing Success
Winning The Queen's Award for Export in 1988 was no small feat for Macallan. This accolade, however, understated in our narrative, is a glaring indicator of the brand's rising dominance in the global market. The ad marking this victory was just like Macallan's journey – wry, understated, yet impactful. Macallan's story is a reminder that, in a world saturated with loud and overt marketing tactics, sometimes it's the subtle nudges, the understated winks, that leave the most lasting impact.
Isn't that what you look for with each glass of Macallan you drink?