The silver lining of the tumultuous times experienced since the spring of 2020 has been the meteoric rise of bar retail. Faced with dwindling revenues and uncertainties, pub owners across America have harnessed the flexibility provided by relaxed liquor regulations. This isn't a mere stop-gap measure to navigate through the pandemic's challenges but is emerging as a sustainable and profitable model that might be here to stay.
Consider L'Oursin in Seattle
Once predominantly reliant on dine-in, Zac Overman and JJ Proville now manage a diversified establishment that includes a restaurant, market, and the intriguingly named "Seattle's smallest fondue restaurant," Old Scratch. Overman recounts with a touch of surprise, "I never thought I'd be running a fancy bodega." The transition wasn't just about survival; it was a response to community needs. With the closest grocery store a tedious 10-minute drive away, the convenience offered by L'Oursin became indispensable.
Overman's experience resonates with another industry stalwart, Sother Teague of New York's Amor y Amargo. The establishment's revamped "general store" concept not only boosted its revenue but also met a unique customer need. An array of bitters – beyond the universally popular Angostura – finds a place on its shelves, showcasing an expanded range.
Yet, it isn't merely about stocking up diversely; it's about creating experiences. As Dave Kaplan, co-founder of Death & Co., highlights, the online storefront has been instrumental in continuing to engage with patrons. The model may be virtual, but the connection is palpably real.
Amidst these adaptations, one fact stands out prominently: many bar owners are seamlessly integrating retail into their operations.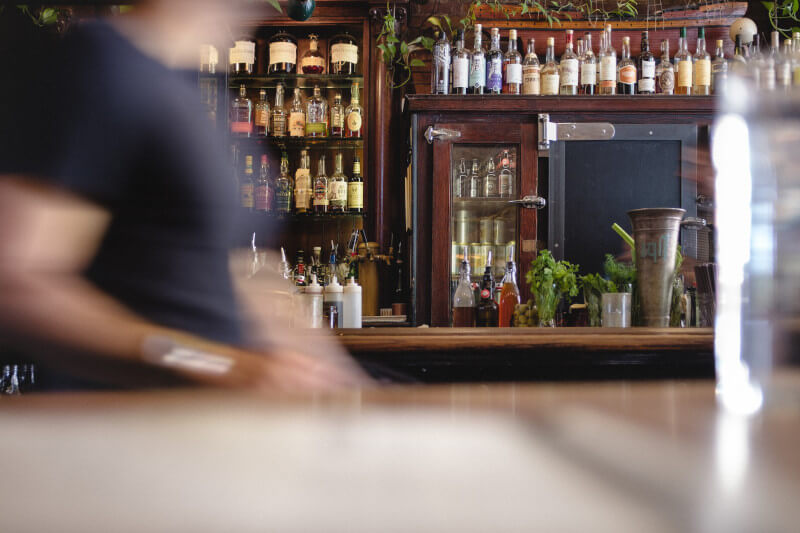 Their logic is robust – it's not just about keeping the lights on; it's about evolving in an ever-changing marketplace. Audrey Claire Taichman's Cook in Philadelphia serves as a shining example. Initially a demonstration kitchen, it morphed into a local wine shop named Cork, diversifying offerings and tapping into newer revenue streams.
The interesting experiment in Ohio by Annie and Luke Williams, who conceptualized Law Bird as a blend of a bar and a Japanese version of 7-Eleven, signifies this evolution. The goal was clear: make drinks accessible, affordable, and fun. This innovative endeavor underscores that diversification isn't just about survival; it's about thriving in novel ways.
It's tempting to see these shifts as temporary, reactionary changes to the pandemic's unique challenges. However, the more we investigate, the clearer it becomes that these changes might have long-term benefits. For one, diversification provides an economic buffer. With multiple revenue streams, establishments can better handle market downturns. More subtly, it fosters a deeper connection with the local community. Establishments are no longer just places to grab a drink; they are intrinsic parts of the community fabric, meeting varied needs.
Annie Williams of Law Bird reflects this sentiment. She notes that had it not been for the pandemic's unexpected challenges, they would have been "working every shift, bartending and waiting tables." But the forced diversification "propelled us years ahead of schedule."
Yet, Like Every Change, It's Not Without Challenges
As Overman at L'Oursin pointed out, merging dine-in service with a market setup will be a logistical hurdle. But, the overwhelming sentiment is optimistic. The belief is strong that this isn't a fleeting trend, but rather a transformation that's here to stay.
Licensing and Legal Hurdles
For any bar owner looking to branch out into retail, the legal intricacies can be daunting. The challenge is multiplied by the fact that liquor laws in the U.S. are governed at the state level, leading to a patchwork of regulations that vary significantly from one state to the next.
A Glimpse into Varied State Laws:
California: While California allows bars to sell sealed containers of alcohol for off-site consumption under specific conditions, they must adhere to stipulated hours and volume restrictions. The California Department of Alcoholic Beverage Control mandates specific license types for such sales.
Texas: The Texas Alcoholic Beverage Commission necessitates that any establishment selling alcohol for off-premises consumption obtain a Package Store Permit. However, there are stipulations tied to local precincts, as some may vote against allowing the sale of liquor, while others only permit beer and wine.
New York: New York has a complex system wherein the State Liquor Authority licenses entities for on-premises sales, off-premises sales, or both. A tavern with an on-premises license looking to move into retail would need an additional off-premises license.
Complications That May Arise:
Zoning Restrictions: Beyond state-imposed liquor regulations, local zoning codes might prohibit retail operations in areas designated exclusively for dining or entertainment. A bar-turned-retailer could find themselves in violation if they don't cross-check these nuances.
Tax Implications: Shifting towards retail may change a bar's tax bracket or impose additional sales tax requirements, necessitating a thorough examination of financial implications.
Insurance Changes: Selling products for off-site consumption might alter a business's insurance needs, leading to potential coverage gaps if not updated accordingly.
For bar owners, navigating these legal hurdles requires a deep understanding of both state and local regulations or the engagement of a legal expert familiar with the alcohol and retail industry. Collaborative efforts, like industry associations or local business groups, can also aid in deciphering and advocating for clearer, more streamlined regulations.
The Ripple Effect of Bars Stepping into Retail
As bars embrace the retail domain, the resulting economic waves extend far beyond their front doors. By diversifying into retail, these establishments are inadvertently bolstering adjacent local businesses and sparking economic rejuvenation in their communities.
1. Strengthened Local Breweries and Distilleries
Bars transitioning into retail often prioritize local brews and spirits. This has led to a surge in demand for products from local breweries and distilleries. For instance, in Portland, Oregon, a city renowned for its craft beer scene, local bars stocking up on regional brews led to a 15% uptick in sales for certain local breweries during the latter half of 2020, as per the Oregon Brewers Guild.
2. Merchandise Makers Benefit
With bars selling branded merchandise, local merchandise producers are witnessing increased orders. From custom-designed T-shirts to uniquely crafted mugs, these adjacent businesses are experiencing a spike in demand. In Chicago, for instance, local print shops reported a 20% increase in orders from bars and restaurants in 2020, as these establishments ramped up their retail merchandise offerings.
3. Enhancing Local Tourism
Bars with a retail section become dual attractions. Tourists not only get to enjoy a drink but also have the chance to purchase unique, locally sourced products to take home. Regions known for their alcoholic beverages, like Napa Valley in California, can attest to the positive correlation between wine sales and tourism. Retail-equipped bars can contribute similarly, creating a holistic experience for visitors.
4. Boosting Other Ancillary Services
The need for delivery services, storage solutions, and even local marketing agencies rises as bars venture into the retail sphere. This creates a host of opportunities for ancillary service providers. For instance, in Austin, Texas, local delivery service providers reported an approximate 25% increase in business contracts with bars that shifted into retail during the pandemic, as noted by the Austin Chamber of Commerce.
The traditional concept of a bar is expanding, and as it welcomes retail into its fold, patrons stand to benefit. Whether it's the convenience of grabbing a wine bottle with your steak, discovering a new range of bitters, or simply enjoying a bottled cocktail from your favorite bar at home, the future of American bars looks promisingly multifaceted.
In the words of Kaplan, bar owners are seeking to expand and create "new opportunities for revenue and for customers to have new and unique experiences." The shift is not about mere survival; it's about envisioning a brighter future, where risks are hedged, customers are delighted, and businesses flourish. If the recent trend is any indication, bar retail isn't just a pandemic-era blip. It's a dynamic chapter in the American bar industry's rich story.